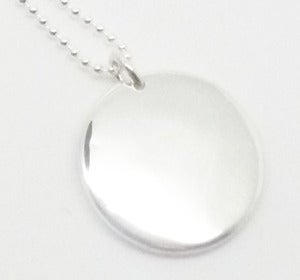 $

49.00
STERLING SILVER DISC PENDANT
This pendant can be personalized with hand stamped letters and number or engraving please follow the link below:
Hand stamped or engraved disc Pendant Necklace
Design is handmade and designed by Hilary Ottens, aka Hilary&June, in her Bondi Beach studio in Australia.
Dimensions:
Disc Pendant: 925 (sterling silver)
Thickness: 1.8mm
Width: 0.50 inches/2 cm
Height:0.50 inches/2 cm
The back of the pendant is hand stamped with a 925, (sterling silver) stamp
All jewellery items come in a Hilary&June jewellery velvet pouch.
Contact Hilary&June Jewellery with any questions or requests.
Subscribe to Hilary&June Jewellery's newsletter: Subscribe here!
Like Hilary&June Jewellery on Facebook: Like here!
Follow Hilary&June on Twitter: Follow here!
Please read the "Payments, Shipping, Refunds and Exchanges Policy" which is found on the front page in the right column.
INSPIRATION.
DESIGN.
PIERCE.
FILE.
POLISH.
CHERRY ON TOP.
Hilary&June
Handcrafted Jewellery
www.hilaryandjune.com.au
hilaryandjune@mail.com
0434908827